3D Civils Fundamentals
Course features
Type: Software Course

Study time: 6 hours

Practical exercises: Yes

Certification: Yes
Practical approach
This course teaches the principles of BIM and how they apply to Civils, using Autodesk Civils 3D software. This learning environment is designed to be informative, engaging, and above all, simple to use.
LEARNING OUTCOMES
Use the enhanced features of Civil 3D to assist civil engineering specific workflows such as pipeline design and cut and fill calculations. Create and manage terrain models. Regrade earthworks and rationalise corridors for road, rail, footpath and canal design. Apply common techniques, tools and methods to present specialised drawings with high levels of accuracy and precision. Draft, edit and print 2D and 3D drawings.
Course Description
AutoCAD Civil 3D software is a civil design and documentation solution that supports Building Information Modeling (BIM) workflows. Using AutoCAD Civil 3D, infrastructure professionals can better understand project performance, maintain more consistent data and processes, and respond faster to change.
Certification
This course is accredited and certified by White Frog, UK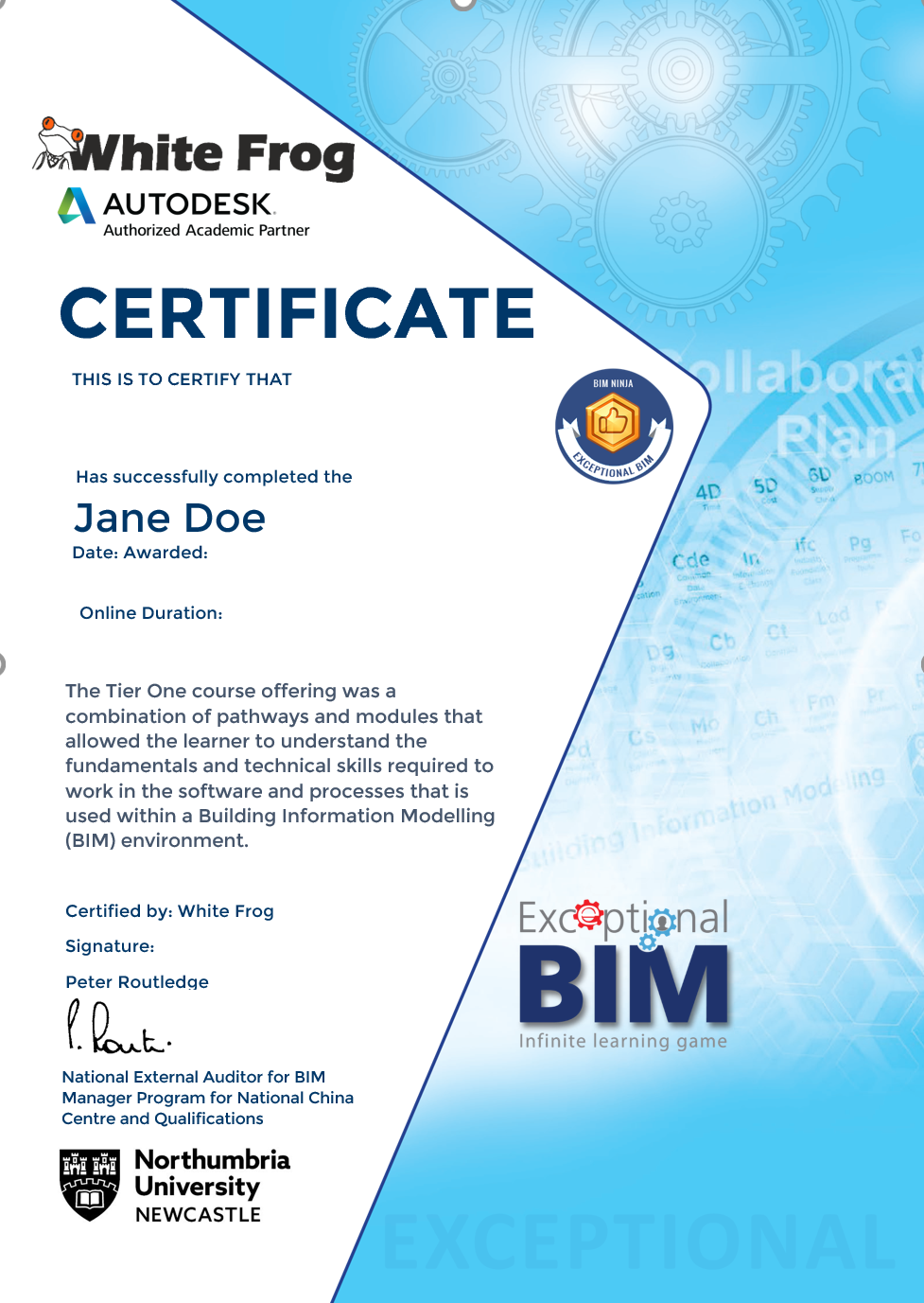 Video & Practical

Exams: 80% Pas
about the company
White Frog
The vision at White Frog is to produce training resources for leading BIM enabling products, which incorporate industry best practice and are aligned to recognised BIM protocols and standards. The modular nature of the courseware should provide flexibility in terms of content and delivery format to cater for the learning path of the delegate, the company and the project, at the most appropriate time.
Here at White Frog, we passionately believe that training should not be a short-term hurdle but a long-term strategic process, with the unique requirements of each individual, addressed as part of the wider picture of the corporate objectives
The race is on, hurry up and finish!
The future of BIM learning is here! We have new BIM courses coming. Our courses are changing
01 Dec 2021
Created with