Revit Architecture Fundamentals
Course features
Level: Intermediate

Study time: 6 hours

Practical exercises: Yes

Certified: 80% pass

Practical approach
Autodesk Revit Architecture fundamentals is designed to give you a solid understanding of Revit Architecture, its features and capabilities, from the basics through to the most advanced and complex topics. This course covers Creating Walls, Adding Site Features, Using Massing Tools, Rendering and Walkthroughs, and Using Advanced Features.
learner outcomes
Autodesk Revit allows professionals to optimize building performance and share model data with engineers and contractors. It is software for architectural design, MEP, and structural engineering, and a solution for collaborative BIM; its powerful tools let you use the intelligent model-based process to plan, design, construct, and manage.
Course overview
This course teaches the principles of BIM and how they apply to Architects and Architectural Technicians, using Autodesk Revit software. This course will cover an overview of Revit concepts, user interface, project set-up, designing with digital building components, producing drawing sheets, and detailing and documenting the project. The main objective is to teach the concepts of Building Information Modelling (BIM) and introduce the tools for parametric building design and documentation using Revit.
Certification included
This course is accredited and certified by White Frog, UK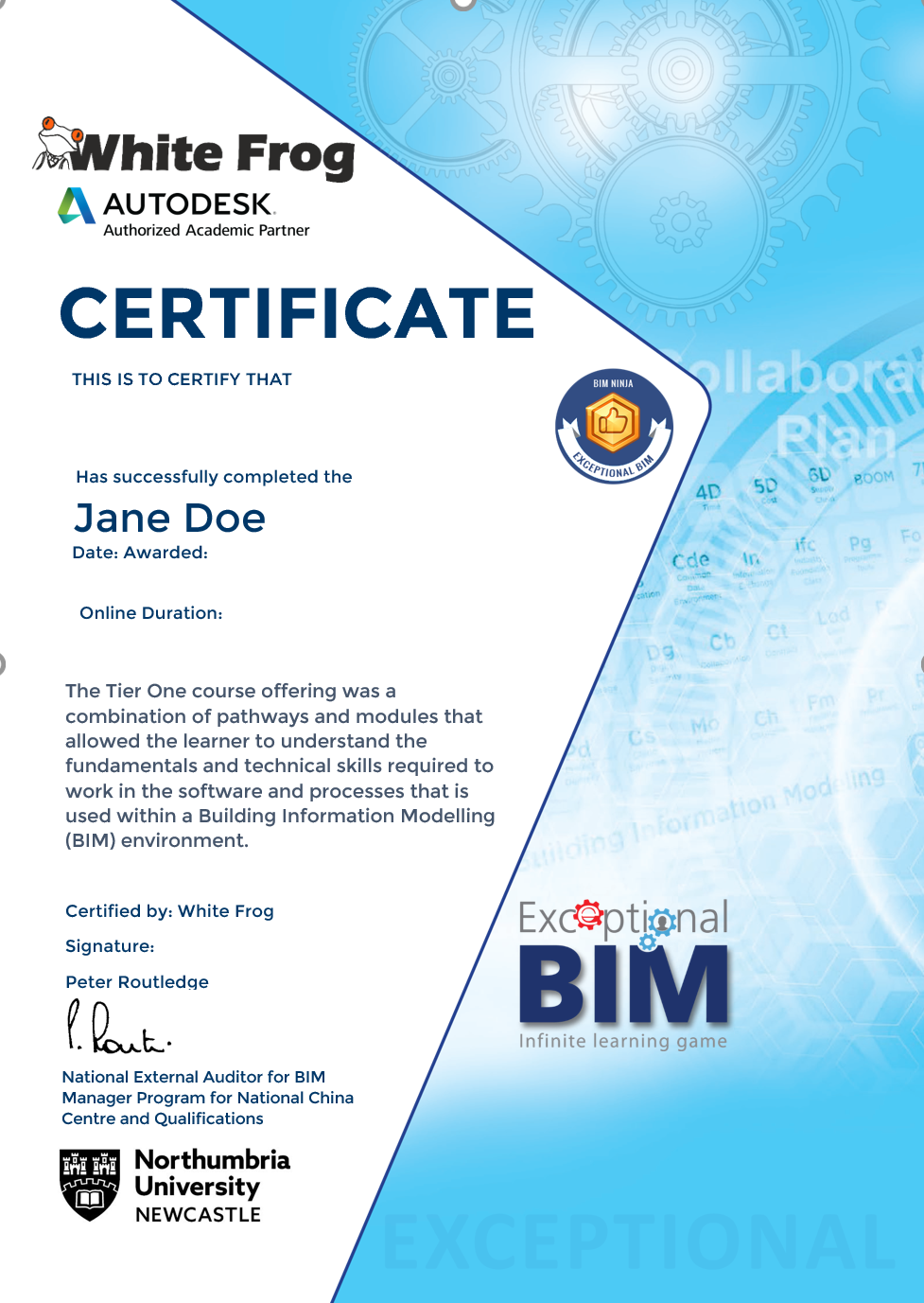 about the company
White Frog
The vision at White Frog is to produce training resources for leading BIM enabling products, which incorporate industry best practice and are aligned to recognised BIM protocols and standards. The modular nature of the courseware should provide flexibility in terms of content and delivery format to cater for the learning path of the delegate, the company and the project, at the most appropriate time.
Here at White Frog, we passionately believe that training should not be a short-term hurdle but a long-term strategic process, with the unique requirements of each individual, addressed as part of the wider picture of the corporate objectives
Created with