Questions you may ask on your course
How do I advance to the next tier in Exceptional BIM?
You can think of a BIM Badge as a digital certificate or award, rewarding, recognising or acknowledging achievements, skills or experiences with each Tier. Our three digital badges are encrypted and show the learners knowledge and skill and effort within their achievement of learning.
In a nutshell, BIM badges give recognition to our learners while motivating and keeping them excited and inspired to challenge their BIM limits. BIM badges( Ninja, Warrior & Samurai) are for everyone to recognize skills gained through a variety of BIM learning, regardless of your profession or background. BIM badges allow you to follow your interests and passions and unlock opportunities with other learners in life and work by standing out from the crowd.
Every learner starts at Tier One level and complete the BIM Ninja level before moving to Tier two Courses. The learner must select a set of courses within Tier One level before moving into Tier two where he/she can excel in a particular skill or activity.
Tier Two requirements:
Successfully complete a minimum of 3 courses in Tier One
Achieve 3 gaming badges in Tier One
Purchase a BIM Ninja Badge US$100

How do purchase my BIM Ninja badge?
Once you access your courses, you will have complete all the requirement specified above. Contacting Support and notifying that you have completed all the BIM Ninja requirement. You will receive a request to purchase the BIM Ninja Digital badge. The digital badge is encrypted and displays all your achievements within each tier. The learners BIM badge and be added to your CV or even an email signature. Giving other readers an opportunity to see your skills and experience in learning.
3. Does access to my courses expire?
Most curse will never expire. If the course is outdate and can be revised annually. The course will be archived, but your certificates and notes will still be available.
4. How do i write the assessment and get my certificate?
A certified certificate will be generated and can be downloaded only once you have completed and passed the assessment at the end of each course. After a certificate has been issued, all your details and the respective course that the certificate is affiliated will appear on the certificate.
If you fail the assessment , you will get a second chance to rewrite the assessment. Upon failing the second time, you will be forced to pay and re-write the course.
5. How do I access a course that I have completed?
You can access your courses anytime simply by logging in to the platform and visiting the course page. The courses you have purchased appear always first in the school's course catalogue.
7. Where can I find the class discussion board?
Clicking on the "Discuss" button which is located right above the table of contents in the course, you can access the discussion of this course. You can use this to communicate with your classmates and instructor.
Or
Clicking on your PROFILE, the learner can access all their discussions by clicking on the Activity button as displayed in the image below.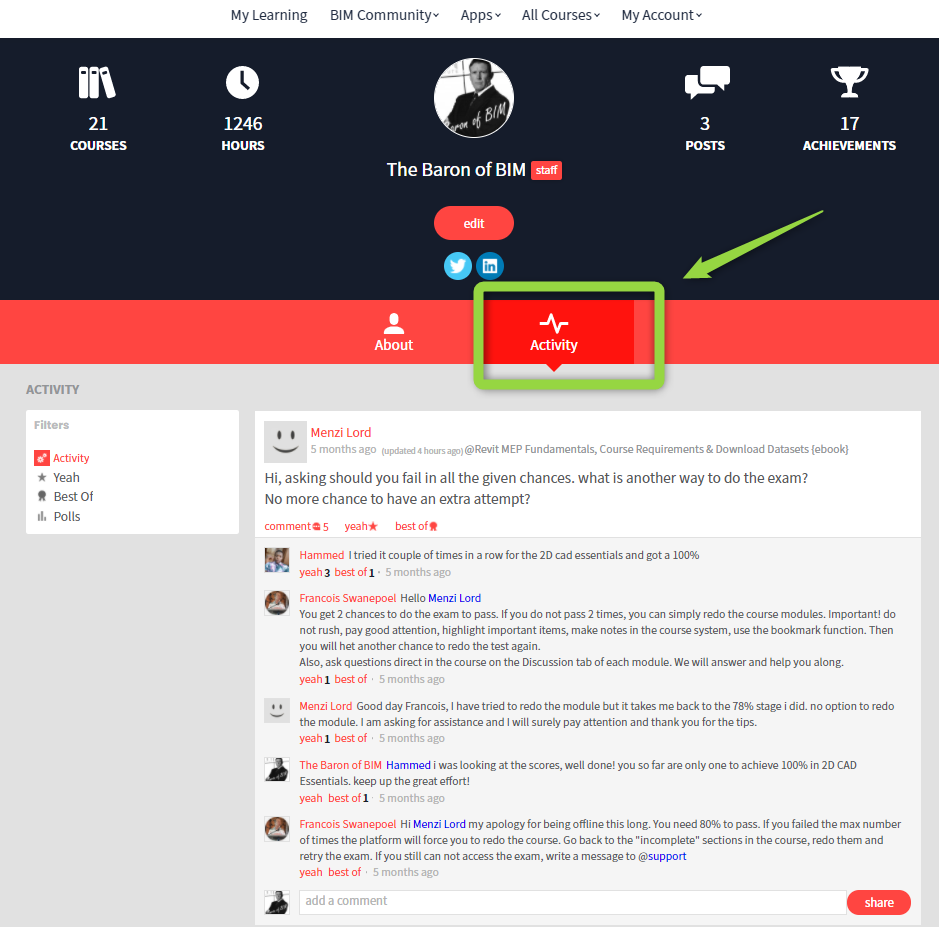 Click on the Activity icon
8. How to send a private inbox message to another Learner?
Click on the learner profile icon at the top.
Click on "New message" tab at the top
Select the co-learner you would like to send the message to (start typing "@" and the name of the student. A list of suggested accounts will appear and you can pick the right one). The fill out your message and click the "send" button
9. How do I download course content?
If you have already purchased a course you only need to visit the course's page and you will have full access to the content. Alternately, you can access the starting page of your school. The courses you have purchased will appear at the top of the course list. By clicking on a course card you will be directed to its contents.
10. How do I contact the course instructor?
For contacting a course instructor you can click the "Ask Instructors" option that can be found on the top right menu)
11. What Browsers are Supported?
We support the latest versions of all well-known browsers. For optimal studying experience we recommend using Mozilla Firefox or Google Chrome
This online school is fully responsive in all kinds of electronic devices
12. Is Internet Access Required?
Internet access is required since all of the course contents are online. We also recommend using a broadband internet connection, especially when you have to go through video content.
13. Does video use up my data?
Our video player automatically tries to adjust the video quality to your internet speed, giving you the highest quality possible but in certain cases, for very slow connections, this might not be possible. If you're experiencing excessive buffering during playback, it's probably because your Internet connection cannot support continuous playback of the video. In this case try to reset your connection/internet router or, if possible, try accessing your online courses using a better internet connection.
it is advisable to use Chrome if you are learning watching a SCORM learning video..
Created with